Introducing Our Resident Ambassador Program!
We are excited to announce our Resident Ambassador Program here at The Terraces at Tuckerman Lane where our residents can serve as a key player in fostering connections among fellow residents. Our Resident Ambassadors enhance the experience of new residents as they move into the community, serve as a liaison to answer any questions, and advocate for the needs of other residents.
What it means to be a senior living resident ambassador:
Live in the heart of our vibrant community: Resident Ambassadors have the privilege of residing in our wonderful community enjoying all the amenities and a close-knit environment.
Lead the way in creating a welcoming atmosphere: our ambassadors are at the forefront of creating a warm and inclusive environment for new residents to feel at home. Their friendly smiles and kind words will make a lasting impact on their transition.
Foster stronger relationships: By connecting with peers, they have the opportunity to build meaningful relationships, share experiences, and create a sense of belonging within our community.
Be a voice for fellow residents: As an advocate, resident ambassadors ensure that residents feel their needs and concerns are heard and addressed. Their insights and suggestions will contribute to the continuous improvement of our senior living communities.
We believe that our Resident Ambassador Program is a fantastic way to enhance the overall living experience for everyone in our community. It's a chance to grow personally, make lasting connections, and positively impact the lives of those around you.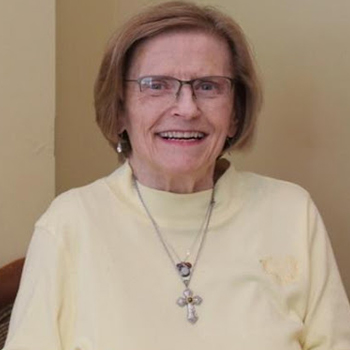 Geri
We are thrilled to shine the spotlight on someone who truly embodies warmth, kindness, and a genuine spirit of support. Please join us in celebrating Geralynn "Geri" Bistle, our extraordinary Resident Ambassador!
Hailing from the heart of DC, Geri brings with her an incredible wealth of experience and a heartwarming personality that brightens the lives of everyone she encounters. As a mother of 3, she understands the importance of compassion and has extended her nurturing nature to the community here.
Geri joined the community in May 2021, and her presence has been an absolute joy ever since. You can often find her at various activities, actively participating and engaging with fellow residents. One of her favorites is Bingo.
With an illustrious career in both government and healthcare, Geri's extensive background in public service has cultivated her ability to connect with people on a profound level. Geri truly exemplifies what it means to be an ambassador, lighting up the lives of those around her with her kindness and unwavering support. Let's extend our heartfelt Congratulations and appreciation to Geri, our exceptional Resident Ambassador!