We are pleased to announce that Emebet Demissie, BSN-MSN, RN, has recently accepted the position of Wellness Director here at The Terraces at Tuckerman Lane!
Emebet will be responsible for supervising the nursing staff as well as overseeing patient care here at The Terraces.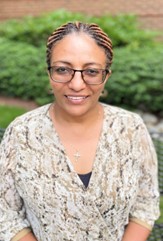 Emebet graduated from Chamberlain University located in Virginia with a degree of Bachelor of Science in Nursing and has a Master's degree in nursing administration and leadership from Capella University. Prior to accepting this position, she served as an Assistant Director of Nursing for another senior living community and has been a charge nurse and nurse manager in other settings. Emebet brings experience and a proven track record of success in the Nursing field, which will be invaluable in meeting the departmental goals and objectives.
We are confident that Emebet will be an excellent fit for this position and a strong asset to all our residents, families, and team members here at The Terraces. Emebet can be reached at (301) 897-8566 or [email protected].